04 Jul

Savoury salty cake with white cheese and sun-dried tomatoes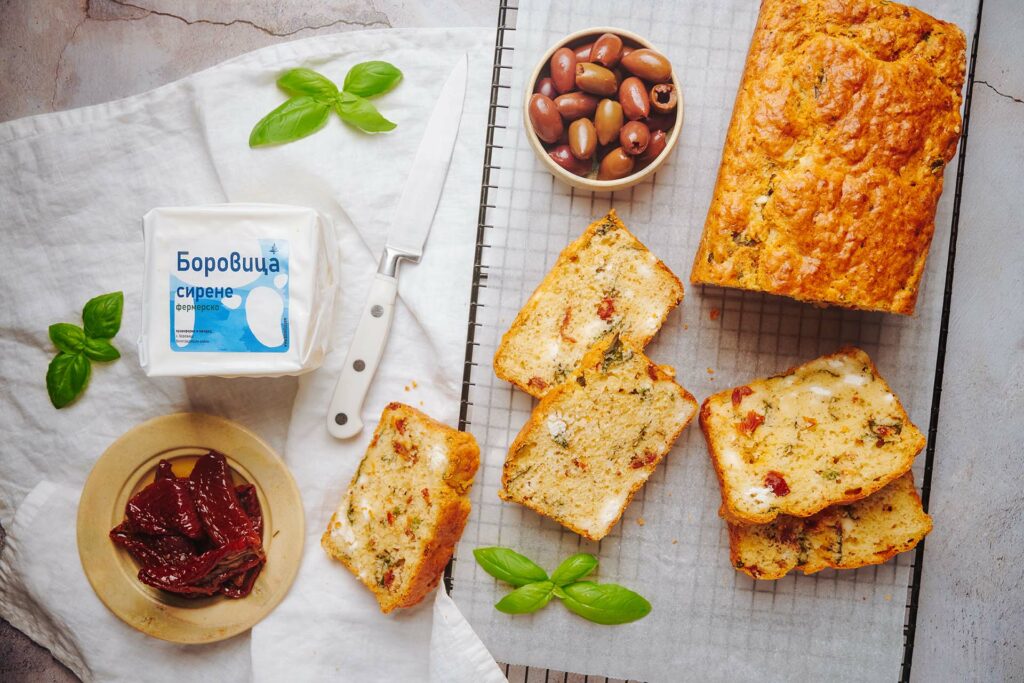 Savoury salty cake with white cheese and sun-dried tomatoes

Ingredients:

250 g of flour
1 tsp baking powder
1 tsp soda
1/2 tsp. salt
1 clove of garlic
1/4 tsp. black pepper ground
240 g of Borovitza milk
Juice of ½ lemon
2 large eggs
80 g of cold cubed butter
½ chopped basil leaves
60 g of sun-dried, marinated tomatoes
150 g of Borovitza white cheese

Preparation time: 20 minutes
Cooking time: 50 minutes
Servings: 6-8

Cooking Method:
Preheat the oven to 180 degrees Co.
Grease a baking pan of approximately 10x25 centimetres in size, cover the bottom and sides with baking paper and grease it as well. Add the lemon juice to the milk, stir and set aside for 10 minutes.

In the bowl of a food processor, put the flour, butter, salt, baking powder, mashed garlic, salt and black pepper. Grind on pulse mode until coarse crumbs are obtained.

Transfer to a large bowl, add the basil and tomatoes and stir them well. Add the eggs to the milk and beat. Pour into the dry ingredients, add the crumbled cheese and mix until you get a smooth cake batter. Transfer the mixture into the baking pan and bake for 45-50 minutes. Check the readiness of the cake with a wooden skewer. Cool for 10 minutes, then transfer to a wire rack and cool completely.