07 Jul

Ushtiptzi Meatballs with baked potatoes and Ajvar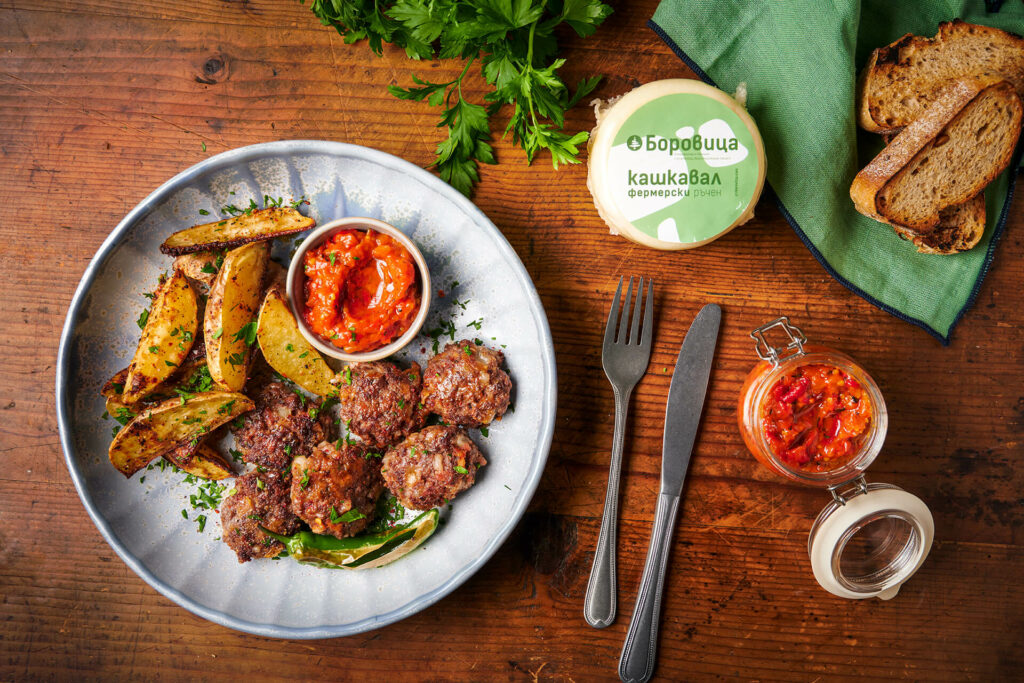 Ushtiptzi Meatballs with baked potatoes and Ajvar
Ingredients:

700 g minced beef
120 g of smoked bacon
120 g of Borovitza yellow cheese
1 ½ tsp. salt
1 tsp black pepper
2 tsp coarsely ground red pepper
2 cloves of mashed garlic
For the baked potatoes:

4 medium potatoes
2 tbsp. olive oil
Salt and pepper to taste

To serve:

Aivar
Baked potatoes
Finely chopped fresh parsley


Cooking Method:
Put the minced meat in a bowl. Chop the bacon and cheese into small cubes and add to the minced meat. Add the mashed garlic and spices and mix well. Set aside for a minimum of 1 hour to infuse.

Cut the well-washed potatoes into two, then into 3 wedge-shaped pieces. Place in a bowl, drizzle with olive oil, season with salt and pepper and mix. Put the potato wedges in a tray covered with baking paper and bake for 35 minutes in an oven preheated to 220 degrees Co until they are golden and crispy.

Divide the flavoured minced meat into balls weighing about 40-50 g each by pinching the mixture with your hand and forming it into small flattened and elongated meatballs. Heat a little olive oil in a pan and fry the meatballs for 2 minutes per side. Put ajvar on a serving plate, arrange some potatoes and add the meatballs.